Yaron Eitan

Yaron is a partner at SCP, having joined the firm with fifteen years experience in building a number of high tech companies. He is also co-founder, president, and CEO of Selway Partners, LLC, a technology incubator that Yaron founded in 1998 and an SCP portfolio company.

Selway has built five different technology ventures, three of them are now part of the SCP portfolio.

Yaron is Chairman of a number of companies including DVTel, Inc., ClearStory Systems, Software Technologies, Inc., The Q Group, and Magnolia Broadband.

He also serves as a director of XVionics, Inc.

Prior to founding Selway Partners, from 1989 until 1998 Yaron was founder, Chairman and CEO of Geotek Communications Inc., Chairman of the Board of Bogen Communications, Inc., and co-founder of Reshef Technologies Ltd., which he founded in 1984.

Yaron holds an M.B.A. from The Wharton School of Business of the University of Pennsylvania, class of 1984 and a degree in economics from Haifa University.




Home | Our Philosophy | Our Investment Strategy and Focus Areas | The SCP Team
Our Portfolio | SCP News | Contact Us |Submit a Business Plan
© 2007 SCP Partners. All Rights Reserved.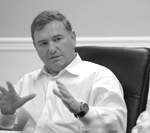 Yaron Eitan

Winston J. Churchill
Wayne B. Weisman
Thomas G. Rebar
Roger Carolin
Robert G. Yablunsky
Richard L. Sherman
John M. Keane
Jim Evans
Charles C. Freyer
Dennis P. Ferry
Danielle Kelly
Revital Hirsch
Ehud Barak